Coco and Schnitzel are Pets of the Month this June!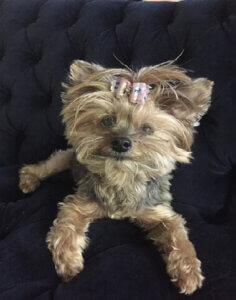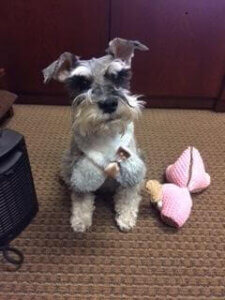 Coco and Schnitzel are sharing the spotlight this June for Pet of the Month. Coco is a 12-year-old female Yorkshire Terrier and Schnitzel is an 8-year-old female Miniature Schnauzer. What do they have in common? They are cousins! They are owned by two human sisters. And they are doing well with a little medical intervention and lots of care and love from their families.
Coco has been struggling with dry eye and allergies for some time now. She has seen specialists and tried many different medications, but still had break through symptoms. Recently, Coco was started on Cytopoint for her allergies. Cytopoint is a relatively new injectable allergy medication. It can be used alone or in combination with other allergy medications. The combination seemed to do the trick for Coco. During the height of allergy season, she is stable at home on oral medication and comes in once monthly for an injection.
Schnitzel was diagnosed with Diabetes and Cushing's Disease in 2015. She started insulin and Vetoryl, which are medications used to control these diseases. She was diagnosed with a Protein Losing Nephropathy in 2016 which was later linked to her high triglyceride level. We worked with Dr. Furrow from the University of Minnesota to help Schnitzel get started on a medication for this newly recognized syndrome in Schnauzers. Schnitzel just had her teeth cleaned and is stable on all of her medications at home.
Both Coco and Schnitzel are looking forward to a fun summer at home with their families. Good job Coco and Schnitzel! And congratulations on being chosen as Pets of the Month!!