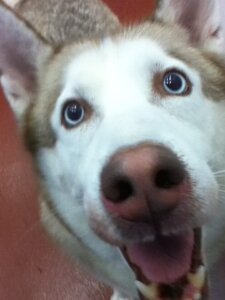 Introducing Yoshi – our September Pet of the Month! Yoshi is a 9 year old male Siberian Husky, and as you'd guess, he loves the cold and snow here in Minnesota. Yoshi initially hails from New York, where he found his family when he wandered injured into their yard when he was five years old. He was cared for by their local veterinarian and his previous owner relinquished him to his new loving home. He was sweet and gentle from the start, but it did take a few obedience classes to take him from a sled dog on a leash to a canine good citizen. A change in his owner's job brought Yoshi to Minnesota, We are lucky to have him as one of our adorable and good-natured patients!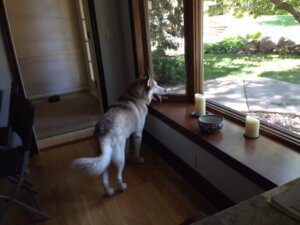 Unfortunately, Yoshi has a history of skin allergies that has followed him from New York to Minnesota. He has had a few bouts of hot spots, ear infections, and skin infections and has tried many allergy medications along the way. When his allergies and infections were at their worst, Yoshi even received medicated baths with our groomer Dawn and boarded here in our kennels while his owners were out of town so that his medications and bathing could continue. Recently, his skin troubles have worsened, prompting us to further investigate for other possible underlying causes. Blood Testing was performed that revealed that Yoshi has developed a condition called hypothyroidism. Finally, an answer to Yoshi's recent troubles was found. Hypothyroidism is common in middle aged dogs and is a condition of decreased production of an important hormone, thyroid hormone, and often is accompanied by hair loss and skin infections. Left untreated, hypothyroidism can lead to serious health issues and a poor quality of life. This month, Yoshi started on supplemental thyroid hormone and we are hoping to see him back with his full Husky coat soon!
Congratulations Yoshi on being chosen as Pet of the Month!!!