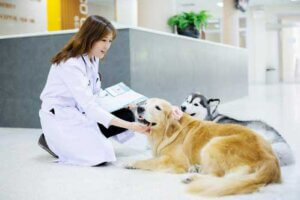 With the Easter holiday coming up her are something's to think about:
• Easter Lilies are Highly toxic plants and can be fatal if ingested by our furry friends. Here are some links to more info on Lilies in cats: Click Here
• Keep Candy and Chocolate out of reach or your pets. This includes anything that contains xylitol (gum, baked goods ect.)
• Decorations can be dangerous, especially Easter tinsel. Cats especially love to nibble colorful plastic grass, which can lead to an obstructed digestive tract, severe vomiting and dehydration.
• The Easter Ham, Turkey or roast: No matter what you are feasting on, keep it out of reach of your pet!
Things can sometimes get a little hectic with family and friends over. If you leave a tempting dish unattended on the counter or table or even in a garbage can, chances are it will be devoured by your furry friend. Dramatic changes in diet such as gorging on the Easter ham can cause gastrointestinal upset and pancreatitis. Also: Watch out for any bones!